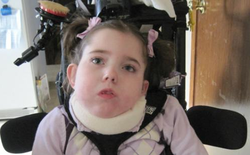 Kayla Runte

Kayla had beautiful long eyelashes and bright eyes which expressed her every emotion without ever speaking a word. She was a teacher of life lessons to many; young and old. Her spirit is contagious and continues to touch lives.



To Read More about Kayla's life:
---
Kayla's life story could be filled with details of her hospital visits, medical needs and diagnoses, but we would rather share with you the Quality of her life...